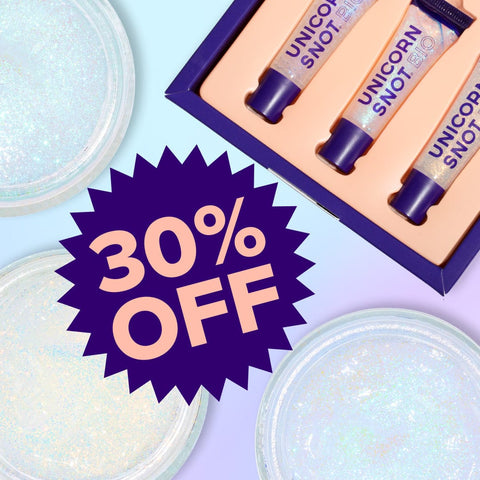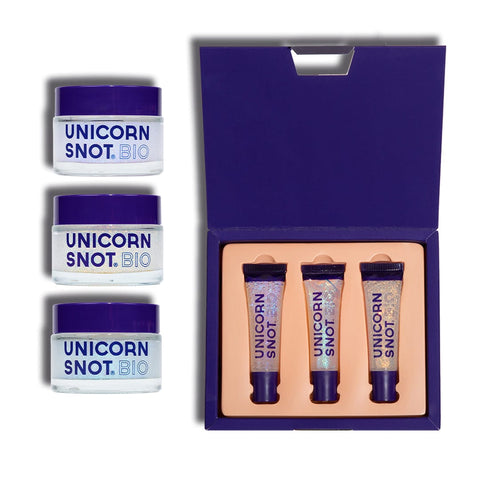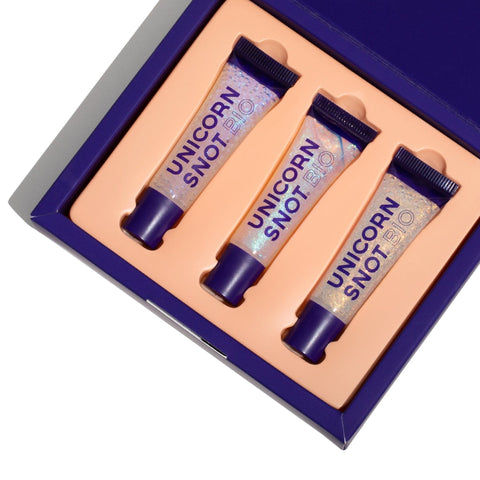 BIO Glitter Bundle
SAVE $24
Snag our Bio Glitter Gel 3-pack and
Bio Glitter Boss Lip Gloss Gift Set for 30% OFF! T
hey were made for each other!
And the best part? These beauties are packaged up and ready to gift...or keep, we won't tell 
💖 No code needed, just add to your cart!
FREE + EASY RETURNS
YOU GET...

✨ 3 Bio Glitter Gel Jars in Galaxy, Nova + Cosmos
✨ 1 Bio Glitter Boss Lip Gloss Gift Set with gloss in Galaxy, Nova + Cosmos

Goes on smooth, never sticky

Lightweight + super sparkly

Long-lasting, safe for face + body





"SO perfect"
Wore this for Eras!!! Goes on so easily and dries quickly. Gorgeous shimmer to it, esp under flashing lights! The best part is it washes off so easily with soap and water. I didn't have to worry about scrubbing or leaving glitter everywhere - came off easily in the shower :) I want one in every color now!!

-Emily N.
GREAT QUALITY FOR SENSITIVE SKIN
Lexie
I have sensitive skin and this didn't make a break out. Dries clear and you don't even remember its there.
I like that this product goes on smooth and doesn't feel caked onto your skin. It dries nice and light and doesn't feel sticky. You don't even notice once it's on your face and it washes off easily.
This body glitter is a miracle. It spreads so beautifully and looks incredible in the sun. It is fairly easy to apply, not much product gets left behind, and it sticks very well to skin for a long amount of time!
"Awesome glittery lip gloss"
I LOVE this stuff. It's so pretty and light and keeps my lips hydrated with a glittery appearance. And the name is funny too.

-Mel
MUST BUY SMELLS GOOD FEELS GOOD
Kev
I love anything Unicorn snot. I always get there products and people always ask me were I get my glitter from.
Looks adorable, stays pretty much in place, and fits right in my pocket. and I keep getting compliments! It's fun to tell people I'm wearing unicorn snot and watch their eyebrows pop up
Most glitter lip glosses are sticky and leave residue all over your face.
This product is excellent. It doesnt bleed. No sticky residue. Not too watery. And it feels almost like chapstick but softer.